Item request has been placed!
×
Item request cannot be made.
×

Processing Request
Frequently asked questions
---
On this page
EPOCH gives health practitioners, ancillary staff and students working for the Tasmanian public health service online access to high-quality health and social care information resources and the clinical evidence base to support decision-making, service planning, education and research.
Resources include:
medicines information
point-of-care tools
clinical guidelines and standards
electronic journals and textbooks
research databases

OpenAthens is the Department of Health's single sign-on authentication system that allows you to access a range of quality health and social care information resources from anywhere, anytime.
With an EPOCH OpenAthens account you have a seamless path to content in medicines information websites, research databases, online journals and textbooks licensed to the Department.

Department of Health, Tasmanian Health Service, and Ambulance Tasmania staff
No.
Use your Department login credentials to access most EPOCH resources.
Other user types
All other State Service staff with health or community care-related work
Students in training or on placement
Other affiliated practitioners or community members doing work or research for the Department of Health
Yes.
Use your professional or student email address to register for EPOCH access.

I submitted an EPOCH Registration Form. How do I check the status of my application?
Library Services reviews applications within 2 business days. You will receive an email if your application was approved. Click the link in the email to activate your account and set your password.
If you have not received an email within 2 business days please contact Library Services.

My EPOCH registration application was approved. How do I activate my account?
When your application is approved, you will be sent an email with a link to activate your account. It will take you to an OpenAthens screen where you can set your password. If the activation fails it means you have not met the password parameters. Please refer to the password requirements FAQ.

What are the OpenAthens password requirements?
Department of Health, Tasmanian Health Service, and Ambulance Tasmania employees do not need to create a separate OpenAthens password. Follow the standard Department guidelines for password complexity.
Contact IT Service Centre on 1300 655 564 for urgent assistance.
All other users create an OpenAthens password during account activation. Passwords are case sensitive. The length must be between 8 and 100 characters and contain a mix of letters and characters that are not letters. Spaces are allowed.
Passwords cannot:
be the same as the username
contain series of ascending or descending characters
contain strings known by hackers to be commonly used such as 'password' or 'letmein'

Can I re-use the password reset link?
Once a link has been used to set a password, it cannot be used again. When you have activated your password, you will be returned to EPOCH's homepage.
Contact the EPOCH Help Desk for assistance.

What OpenAthens login option should I choose to access EPOCH resources?
The OpenAthens login page has two EPOCH login options:
Department of Health/Tasmanian Health Service
Users with Department of Health, Tasmanian Health Service or Ambulance Tasmania login credentials.
Affiliated Clinicians, Staff and Students
Users NOT directly employed by the Department of Health, Tasmanian Health Service or Ambulance Tasmania.
Select the option that describes your status.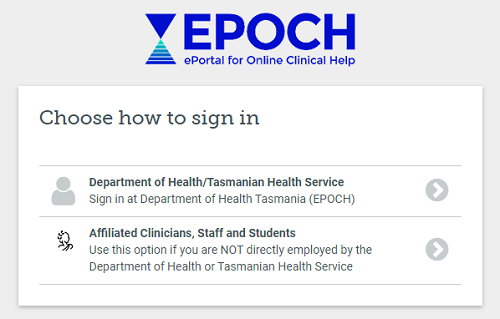 Does EPOCH access expire? How do I renew my access?
Department of Health, Tasmanian Health Service and Ambulance Tasmania access does NOT expire. Access the EPOCH portal with your Department login credentials. Your credentials will work if you remain employed by the Department.
All other accounts expire periodically. You will be sent an email 30 days before expiry. Follow the link in the email to reapply for access.
Contact Library Services if your account has already expired.

The Department of Health requires all staff to register for multi-factor authentication to access Department systems offsite, including EPOCH.
What is Multi-Factor Authentication (MFA)?
Multi-Factor Authentication (MFA) is a security measure required for accessing EPOCH on a mobile device or away from work.
Find out more about MFA for Department staff.
Registering for MFA offsite
Complete MFA registration from anywhere in Australia at any time.
You will need:
Your smartphone
Access to a desktop computer
Visit aka.ms/mfasetup to complete registration.
Who do I contact if I am having technical difficulties with MFA?
Please call the Department IT Service Centre during business hours (8.30am-5.00pm AEST)
Within Tasmania on 1300 655 564
Interstate on (03) 6145 0999
Outside of Australia on +61 3 6145 0999
You may need to verify that you are a Department of Health employee by answering a number of security questions.

Department of Health, Tasmanian Health Service and Ambulance Tasmania staff must contact IT Service Centre on 1300 655 564 to reset their Department login credentials.
All other EPOCH users use the Forgotten Password online form or contact the EPOCH Help Desk.

To optimise your EPOCH experience accessing and searching online resources both onsite and offsite, we recommend you always log in on EPOCH's homepage first.

However, you can access most EPOCH resources on networked Department of Health and Tasmanian Health Service computers, laptops or devices without logging in.
If you choose to use your own mobile device, tablet or laptop for work and are not connected to the Department's wireless network, we recommend the following:
Bookmark or save EPOCH to your desktop or device homescreen
Always log in on EPOCH's homepage before you start a session, a search or access a resource

Once I have signed in via OpenAthens, how long does the session last?
OpenAthens sessions last for eight hours. You can terminate a session early by clearing the cookies in your browser. You can configure your browser to automatically clear cookies when you close the browser.

I prefer to search on the open web and use Department information resources directly through publisher websites. Can I access them without visiting the EPOCH portal?
Yes, it is possible to use your OpenAthens login credentials to sign in to a range of publisher sites for access to individual resources. Some examples are Therapeutic Guidelines, MIMS, and Embase.
However, there are a small number of publishers that do not offer an OpenAthens sign-in option. To find out if a resource supports OpenAthens sign-in credentials:
Locate and click on the Sign in or Login button on a resource homepage.
Look for and select one, or a variation, of the following examples of login links that publishers supporting OpenAthens credentials will offer:
Sign in via your institution
Sign in via OpenAthens
OpenAthens Users, Login Here
Login via OpenAthens
You may be prompted to Find your institution. In the Type the name of your institution search box enter Department of Health Tasmania (EPOCH).

Why can I sign in via OpenAthens on only some publisher websites?
Publishers or information providers that are members of the OpenAthens Federation will offer the option of logging in directly through their websites, usually via an "institutional login" link.
Publishers that are not part of the OpenAthens Federation do not provide that offer. The login option on their website is not connected with OpenAthens and therefore will not accept EPOCH OpenAthens credentials.
For the most consistent experience, we recommend using the EPOCH portal as the starting point for searches and access to online resources.

To establish access to UpToDate remotely you must register for a personal UpToDate account on a Department computer.
Once you are logged into a Department computer create a personal UpToDate account.
Once you have established a personal account you can:
Log in to UpToDate on any desktop computer/laptop
To maintain your UpToDate personal account you will need to log in from a computer that is connected to the Department network every 90 days. You will receive a reminder prompt from UpToDate when renewal is required.

The SAI Global website is available for access ONSITE only.

I am onsite and want to access a Standard on the SAI Global website. How do I open or download Standards?
To open or download a document you locate on the SAI Global website requires:
FileOpen plugin software
Individual registration with your work email and a password
For step-by-step instructions to set up access to Standards read our Australian & International Standards User Guide.

Log in to EPOCH to obtain separate login credentials and instructions for accessing the Renal Drug Database.

HealthPathways Tasmania is available for access ONSITE only. Health professionals who want to obtain offsite access to this resource must submit a HealthPathways Tasmania registration request.